As a follow up to my book Digital Influence Warfare in the Age of Social Media, I've been working on a separate project that looks specifically at a massive, worldwide profit seeking enterprise that can be leveraged by state actors but often exists and functions independently and purely for-profit. In a world of information warfare armies and agents, these are the mercenaries.
The new book is Digital Influence Mercenaries: Profit and Power Through Information Warfare, and will be published by the U.S. Naval Institute Press in late 2021. The manuscript has been peer reviewed and is in the final stages of revision. The Table of Contents for the book is provided below, and for those interested you can download the book's Preface as a PDF.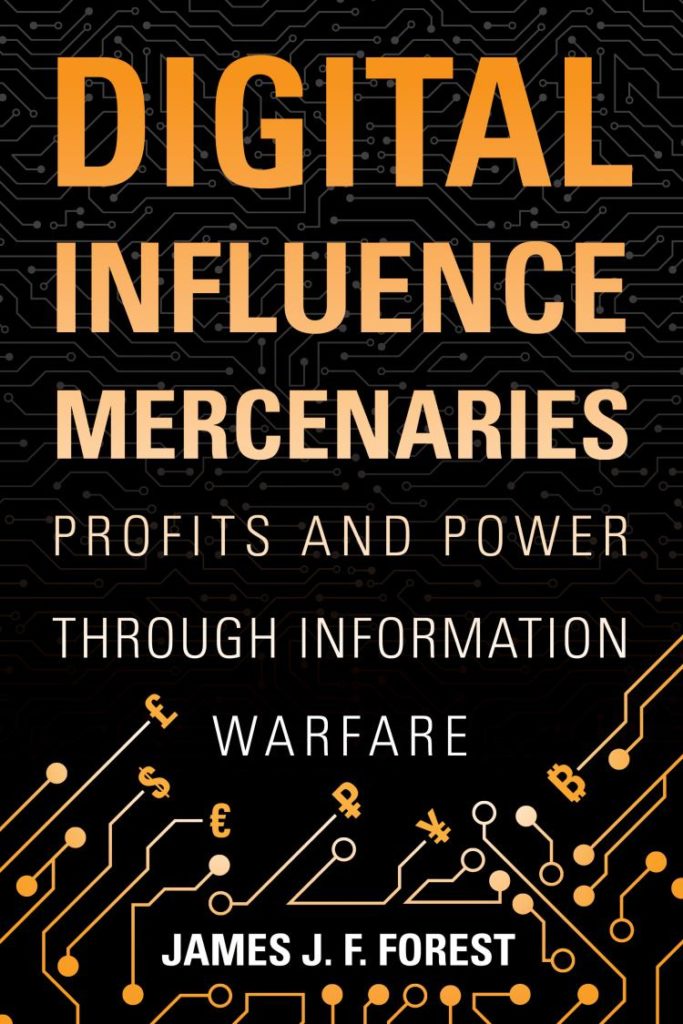 Table of Contents
REVIEWS
"In his new book, Digital Influence Mercenaries: Profits and Power Through Information Warfare, James J.F. Forest analyzes the next frontier of conflict – the information environment, and how cyber warfare, disinformation, and hackers will figure prominently in the future of warfare. Forest meticulously details how digital forms of influence warfare will disrupt the geopolitical landscape, tracing its evolution and highlighting the main players and technologies involved. An absolute must-read!" —Colin P. Clarke, PhD, director of policy and research, The Soufan Group, and senior research fellow at The Soufan Center
"Dr. James Forest has written a new book titled Digital Influence Mercenaries: Profits and Power Through Information Warfare which describes a robust private sector in which digital influence mercenaries will do online public perception manipulation on behalf of the highest bidder, which could be political parties, corporations, dictators, individual politicians and CEOs, and yes, even state government agencies. A must-read for security professionals, educators, political analysts, journalists and most importantly, the general public which increasingly only seeks a point of view that they already agree with and without learning any other point of view." —Brig. Gen. Russell D. Howard (Ret.), Distinguished Senior Fellow, Joint Special Operations University
"James J. F. Forest offers readers a tour around the rocky and challenging landscape of online information manipulation and paid influence operations. In a world that is increasingly mediated by networked technology, Digital Influence Mercenaries is destined to be an instant standard academic reference on a vitally important topic." —J.M. Berger, author of Extremism and postgraduate researcher at Swansea University School of Law
"This volume is of great interest-whatever one's politics. The emerging cyber realities detailed here must be better understood by all of us in the social sciences, including economics and sociocultural anthropology." —Christopher C. Harmon, PhD, adjunct professor, Institute of World Politics
About the Author: Dr. James J.F. Forest is a Professor at the University of Massachusetts Lowell School of Criminology & Justice Studies, and a Visiting Professor at the Tufts University Fletcher School of Law & Diplomacy. He is also co-editor of the journal Perspectives on Terrorism and has previously served as a Senior Fellow (2010-2019) at the U.S. Joint Special Operations University, and as a Director of Terrorism Studies (2004-2010) at at the U.S. Military Academy, West Point.